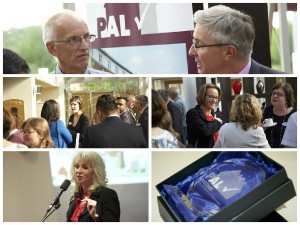 The PAL scheme marked its relaunch with a networking dinner at the Mercure Hatfield Oak Hotel on Wednesday 10th June. Seven Letting Agents were officially awarded the PAL 'Partner' status.  – a title given to Letting or Managing Agents who have been audited and endorsed by PAL.
Pikes Estate Agents Limited; Let me Properties; Raine and Co and The Management Office; Martin and Co  Welwyn Hatfield; Strats Estates and Letting Agents Ltd; Infinity Property Solution Ltd; West Hyde Property Limited were recognised for achieving the PAL Partner status
PAL previously just recognised landlords and agents who meet their legal obligations, but now includes a standard for those who go above and beyond to provide quality homes. The accreditation scheme has benefits for both tenants and landlords and has grown in popularity since its launch three years ago.
Mr Saini, a gold standard PAL-accredited landlord in Hatfield, says: "The PAL accreditation gives me peace of mind that my properties comply with all the necessary legal standards. It also helps me to attract tenants by providing independent, third party endorsement."
Emma Lewis, Community Liaison and Support Officer at the University of Hertfordshire, said: "The PAL scheme offers an excellent source of information to our students who wish to live in private off-campus accommodation. The new PAL website allows potential tenants to search for landlords and letting agents who operate to best practice, and recognises those who go above and beyond to provide safe and well-maintained properties. I limit all property recommendations to students and staff to those who have been PAL accredited."
Ellen Gava, Landlord Accreditation Manager at Welwyn Hatfield Borough Council, said: "We're encouraging people to look out for the PAL accreditation when choosing rented property. The more people who are aware of the scheme, the more we will raise housing standards across Welwyn Hatfield."
Councillor Mandy Perkins, Welwyn Hatfield Borough Council's Executive Member for Planning, Housing and Community, said: "The aim of this scheme is to recognise the best landlords and managing agents and to direct residents to accommodation that is managed in the best way."