Housing Health and Safety Rating System for Letting & Managing Agents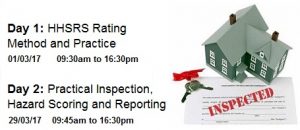 PAL in collaboration with RH Environmental are proud to present this bespoke training session hosted for you by Welwyn Hatfield Borough Council. Renowned trainer John Bryson who was involved in the original HHSRS training programme rolled out by DCLG will present this 2-day course.
'John Bryson is a good teacher and easy to listen to.'recent training delegate'
The Housing Health & Safety Rating System (HHSRS) is a risk-based evaluation tool used to identify hazards and deficiencies in residential properties.
This certified HHSRS qualification aims to provide those who carry out inspections and maintenance surveys of residential accommodation with the knowledge and competence to rate hazards and deficiencies appropriately. This will enable you to put effective measures in place to protect against hazards to health and safety in your properties
This qualification is also a pre-requisite for PAL Partner members who want to self-accredit their managed properties.
---
Who should attend?
Any Letting or Managing Agent responsible for property letting, maintenance and management.
This qualification is a bespoke qualification between PAL (Welwyn Hatfield Borough Council and RH Environmental limited and is only available through PAL.
---
HOW TO BOOK
Contact Natasha South to complete your booking on 01707 357584 or n.south@welhat.gov.uk 
---
Venue:
Welwyn Hatfield Borough Council
The Campus
Welwyn Garden City, Hertfordshire AL8 6AE
---
Dates:
Day 1: Wednesday 1 March 2017          Time: 09:30-16:30
Day 2: Wednesday 29 March 2017       Time: 09:45-16:30
---
Cost:
£250 PAL members per person (for 2-day course)
£350 Non-members per person (for 2-day course)
Cost comparison
This HHSRS course offers amazing value for money at £250 (PAL members) and £350 (non-PAL members) for the 2-day course compared to the following options:
---
CPD:
Day1 – 05 hours 30 minutes
Day 2 – 05 hours 15 minutes
Course Information
Day 1
Background, methodology and application of the HHSRS, including sessions on key terminology, hazard rating procedure, hazard rating exercises and the status of hazard scoring in enforcement. A briefing will be given on preparing for an inspection and submitting a report.
Interim
Before proceeding to Day 2, delegates undergoing assessment will be required to undertake hazard ratings of a dwelling, complete an inspection form and submit it for assessment by the tutor.
Day 2
Delegates will present their reports and hazard scores and be given feedback. Common errors and issues will be explained with the aim of helping to achieve consistency in scoring and gain confidence in using the system. Delegates who complete both days and pass the written assessment will be certified as competent in using HHSRS.
Benefits
Delegates can supplement their training with two weeks free access to RIAMS (Regulatory Information and Management Systems) an online portal for environmental health information, with an extensive library of publications, documents, procedures, British Standards and statutory notices.
REGISTER NOW!
Contact Natasha South to complete your booking on 01707 357584 or n.south@welhat.gov.uk